February 1-2, 2016 -- SPECIAL EARLY CAUCUS EDITION -- Cruz's close ties to New York's activist gay "Lavender Mafia"

Ted Cruz and Marco Rubio appear to have more things in common than merely their Cuban heritage. After Donald Trump launched a blistering attack on GOP presidential hopeful Cruz, Cruz responded by questioning Trump's "New York values." Trump cautioned Cruz by saying that while the junior senator from Texas claimed he did not care for New York values, he certainly was willing to accept New York campaign contributions. An examination of Cruz's financial support from New York yields close connections between the Christian evangelical, who has condemned homosexuality as a sin, and some of New York's top gay financiers and real estate moguls, all of whom are also major supporters of Israel. And one other "problem" for Cruz: there is a dead body involved.

After staking his political career on bashing equal rights for gays, including pushing for a constitutional amendment allowing states to ban gay marriage, on April 20, 2015, Cruz and his wife Heidi, a Goldman Sachs executive, were feted at a reception at the 230 Central Park South mega-townhouse of one of Manhattan's most well-known gay entrepreneurs, Ian Reisner, who was joined by his one-time partner, Mati Weiderpass. Reisner is a co-founder of Parkview Developers and a former managing director of the Bank of America and derivatives trader for Salomon Brothers. Weiderpass is a military veteran and former marketing manager for Swatch. At the reception, Reisner, who, as of last year, was a registered Republican, handed Cruz a check for $2700, the maximum amount permitted under federal election law. Reisner and Weiderpass previously donated to former New York Mayor Rudy Giuliani's presidential campaign. Among Reisner's and Weiderpass's circle of friends is Ken Mehlman, the former Republican National Committee chairman who is also gay.



The 230 Central Park South location where a political reception attended by wealthy NY gays was held for Ted Cruz. Six months earlier it was also a possible crime scene where a young bar manager named Sean Verdi died under suspicious circumstances.

The mid-town reception was not the only Cruz connection to New York's Wall Street gay community. Cruz has stated that openly-gay San Francisco investor Peter Thiel, is a good friend of his. Other gay New York businessmen also attended the political bash at the Reisner townhouse.

Six months earlier, a 23-year old bar manager named Sean Verdi had been found unconscious in a bathtub in Reisner's townhouse, the very same private apartment where the Cruz reception was held. Verdi's social media pages referred to his fondness for parties in New York and Florida.

A half hour after emergency medical personnel arrived at Reisner's residence, Verdi was pronounced dead, reportedly from a drug overdose of a combination of cocaine and Ecstasy. The New York City medical examiner later concluded that Verdi died from acute intoxication from the ingestion of alcohol, ketamine, MDMA [Ecstasy], and ethylone. Reisner and Verdi, along with two other men, left the Bar-Tini Ultra Lounge in Hell's Kitchen, where Verdi served as manager, left the bar on the evening of October 29, 2014, for Reisner's townhouse. After Verdi became sick, Reisner claimed he put Verdi into the shower and then into the bathtub, where he was later found unconscious the next morning. The incident was publicized in the New York media, however, Cruz and his wife still agreed to attend a political reception at a location where an extremely suspicious incident had taken place a half-year earlier. After Verdi's death, Bar-Tini went out of business.



Queer eye for the "not-so-straight" guy? Ted Cruz with gay Manhattan real estate executive Mati Weiderpass at Cruz campaign reception at mid-town townhouse where a bar manager was found unconscious six months earlier. The bar manager later died from a drug overdose [left]. Some six months earlier, 23-year old Sean Verdi, a Hell's Kitchen bar manager, was found unconscious in the bathtub of the townhouse where the Cruz reception was held. Verdi later died from a drug overdose.

It was not Reisner's first brush with the law. In May 2013, Reisner was arrested after he side-swiped a car in East Hampton, Long Island. Reisner was charged with driving while impaired while under the influence of Ambien.

Tragic deaths have afflicted the Reisner family as of late.

On September 23, 2013, Reisner's brother, Ross Reisner, was shot and killed in the Setauket, Long Island home that he shared with his longtime male partner, Kevin Murray. Ross Reisner was a popular horse riding instructor. Ross was killed when shots from a high-caliber weapon were fired through his window while he was sitting on the couch with Murray. A few weeks later, in October, 45-year old Brett Knight, a former American Express executive who claimed the company fired him after he was HIV-positive, was arrested by federal marshals in Seymour, Tennessee for questioning in the shooting death of Reisner. Knight was a former resident of Reisner's Setauket home. Knight, who lived in a basement apartment in Reisner's home, apparently had a falling out with Murray. Knight had also harassed the couple after moving out. Later, Knight, a Utah native, confessed to firing eleven shots into the Reisner home from a .40 caliber pistol he bought in Utah. Knight was sentenced to 22 years in prison.

After liberal gays found out about the Cruz reception, they immediately castigated Reisner and Weiderpass, even organizing a boycott of their gay-oriented businesses, which include the "Out NYC" hotel in Hell's Kitchen and the Pavilion nightclub and Sip-n-Twirl bar, both gay entertainment locales; the Blue Whale restaurant; and the Botel hotel in Fire Island Pines on Long Island. The Fire Island resort has been a longtime center for the production of gay porn and drag queen shows. Reisner's liaison to the Fire Island business community is Omar Sharif, Jr., the gay grandson of the late Egyptian actor. Reisner's plans include opening an Out Hotel in Chicago in Boy's Town, the gay entertainment district that, in the past, attracted such notable politicians as former GOP Representative Aaron Schock, then-congressman Rahm Emanuel, and an Illinois state senator named Barack Obama.

After being taken to task by New York's powerful and liberal gay community for hosting Cruz, Reisner defended the reception by claiming it was to thank Cruz for his unwavering support for Israel. The reception for Cruz was not Reisner's only fundraiser for an anti-gay Republican. The real estate magnate had also hosted a reception for Wisconsin's anti-gay GOP senator Ron Johnson. New York's politically-active gay community is sometimes called the "Lavender Mafia," because of their power and influence. While most of this mafia is liberal, there are those who support conservative causes and candidates. Former Texas Republican Governor Rick Perry, who recently endorsed Cruz, was involved with Texas's influential conservative Lavender Mafia and, as WMR previously reported, Perry himself is a member of that same grouping of conservative but closeted gay politicians.

Last month, GOP presidential candidate Donald Trump hit back at Cruz on Twitter for accepting money from New York's gay and financial community after the Texas senator questioned Trump's "New York values." Trump also pointed to a New York Times article that stated that Cruz told the attendees of the Reisner reception that he would have no problem if one of his daughters was gay.





Trump's tweets on Cruz's hypocrisy on gay rights.

Among those at the Reisner reception for Cruz was Kalman Sporn, Cruz's Middle East policy adviser and an individual with interesting links to Israel, the Netherlands, and the United Arab Emirates. Sporn works for a mysterious intelligence-linked entity called Geopolitical Information Service AG, based in Liechtenstein, and founded by Prince Michael of the tiny principality. The Liechtenstein firm appears to specialize in art, particularly Islamic art from the Middle East. Civil strife in Iraq, Syria, Libya, Egypt, and Yemen has resulted in a massive illegal trade in priceless Middle East relics and artifacts, with Israelis as ultimate buyers of the stolen relics.

Sporn also appears to have connections inside the Vatican, which might come as surprise to Cruz's anti-Catholic supporters of the Christian Dominionist movement, which is known for its extreme hatred of the papacy. Holocaust survivor Sam Domb, a major fundraiser for pro-Israeli politicians and a one-time aide to Giuliani, also attended the campaign event for Cruz at Reisner's home.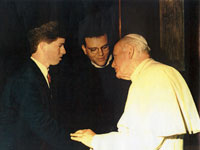 Left-to-right: Cruz adviser Kalman Sporn, Canon Andrew White of the Foundation for Relief and Reconciliation in the Middle East, and Pope John Paul II. Sporn is now an adviser to the Dignitatis Humanae Institute in Vatican City. Above right at the Reisner fundraiser for Cruz, left-to-right: Weiderpass; Cruz; Sporn; and Heidi Cruz, Senator Cruz's Goldman Sachs-employed wife. Goldman Sachs loaned Cruz $1 million for his U.S. Senate campaign, which Cruz failed to report on Federal Election Commission filings.

Cruz, whose political career is based on Tea Party red meat issues, including opposing gay rights, has seen his political fortunes bolstered by leading members of the Republican gay "Lavender Mafia." In the cases of Cruz and Rubio, with his youthful gay past, these anti-gay stalwarts seem to share an awfully large closet.